You'll find Sandusky Square easily accessible, just a couple blocks off I-75. Conveniently located close to town and the University of Findlay, these lovely one and two bedroom apartments are designed to give you maximum space and storage for moderate prices. You'll enjoy the large open field in the center of the complex where you can play Frisbee, run a few plays of football, set up a badminton game or walk the dog. The central gazebo invites you to a shady pause while you enjoy the breezes. If you like to walk or jog, the distance around the square is about a half mile – a convenient place to exercise! Ample parking is provided and well lit by outdoor lights at night. A limited number of garages are also available at an extra fee.
The apartments are decorated in neutral shades that allow you to accessorize in any style or color. Each is equipped with a full-sized refrigerator and an electric self-cleaning stove. The oak cabinets are by Merillat, a top quality name in cabinets, and feature roll out drawers and shelving to give you extra storage space. All apartments are efficiently heated and cooled with electric heat pumps that help save on your fuel bill. There are no gas heating bills to worry about! The mini-blinds and patio blinds are provided for you.
Sandusky Square Apartments Findlay map link
Our experienced staff welcomes you in our on site office weekdays from 8 am to 5 pm. Our spacious, bright coin laundry is open 24 hours a day, with plenty of washers and driers for multiple users. Our exercise room features several types of equipment to use in your spare minutes.
We are pet friendly! Within certain guidelines we encourage responsible pet owners to bring their furry friend with them. Click on "Pet Policies" for information on the current pet agreement.
*A completed application and/or lease agreement DOES NOT guarantee an apartment will be leased to the applicant.
---
Sandusky Square Site Plan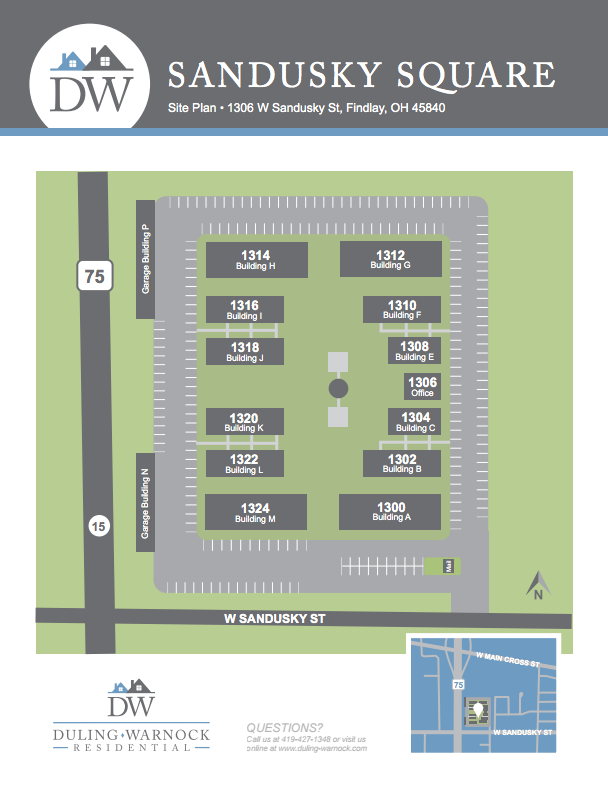 ---
Upgrade your surroundings
• Open outdoor areas
• Patio or Terrace optional
• Garages optional
Kitchen & Bath
Spacious kitchen and bath units provide a comfortable atmosphere, equipped with ample storage space.
Living Space
• Maximum space
• Moderately priced
• Clean & spacious
• Plenty of wall outlets